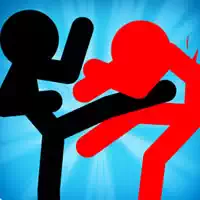 The battle is a barbarian way to reach your goals. During the battle, you kill, injure, mutilate, destroy… The battle is a war of small or large size, personal or public. This is brutal force, which utilizes physical power, the power of a gun, or another power. No matter what it is, the battle is always about someone's loss and someone's victory because of physical destruction or disabling of the one who lost.

There is no goodness or blessing in the battle unless a good guy is attacked by a bad guy and has to stop that bad guy. Or when an alive person is attacked by the undead (zombie), wild animal, or something mechanical (like a robot), which endangers their life and health. In these cases, the battle is justified (although cruelty in it still remains). Generally, it is a bad thing. But since people do want to entertain themselves in many ways, including this one, we have collected in the category of online battle games to play hundreds of options to cater to such human desires.

Gaming amusement of these games is high, graphics are various, practical implementation of battle ideas is also different, and the level of cruelty of the online battle games for free is amazingly different, which allows attracting to the gaming process people of all ages. Here, you'll find such recognizable characters as Bomber Man, tanks, dragons, planes, Paw Patrol, ninjas, zombies, Stickman, sharks, helicopters, Super Mario, Huggy Wuggy, Lego figurines, Among Us, SpongeBob, Squid Game, Pokemon, Dragon Ball, Minecraft, vampires, and many others.

Although the biggest part of freely playable battle games is of the action genre, some of them are calmer, being jigsaws, paint-ups, cooking, and akin. Some games are about battles in the indirect meaning of this word — like dance battles, where players have to show their skills to overcome a rival, not physically hurting them.