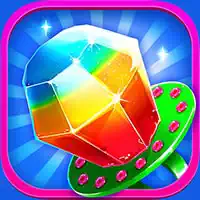 Everyone loves candies! A hundred percent of kids, the biggest part of teenagers, and some adults. It is scientifically proven that as the person grows up and gets older, they start consuming less sugar and chocolate on average. That's because the body shows less glucose tolerance over the years, and that process starts around 17 years and progresses through the entire life. So, yeah, you should eat more candies while you're younger — that'll become not so physically possible when you grow old.

But hey, this impacts teeth badly! That's sad… So there must be a balance between the consumed sugary candies & chocolate and the dentist bills. If you see your teeth are blackened, feel bad, hurt, and generally, you aren't prone to nice oral hygiene, then you should strongly refrain from any sugar or consume it as minimally as possible.

Okay, let's presume that your teeth are fine, your glucose tolerance is too, and you're here because, additionally to adoring candies, you'd like to play candy online games on our server. We have a lot to offer you — around 200 pieces of games (as of the date of writing this text), and this number is expanding over time.

So, candies… They come in a zillion various implementations, tastes, colors, forms, with or without fillings, and can be from tiny to as large as a head of a person (those created bigger are made specifically to amaze their users or for some sort of a record, official or just for fun). Cotton candy is also a candy, by the way — that's why we've included games with its participation to candy online games on our server.

In addition to well-recognizable types of candies, you'll find many characters you're acquainted with: Om Nom from 'Cut The Rope', Dora the Explorer, Disney's and other princesses, Baby Hazel, Among Us, Blaze, SpongeBob, Squid Games, Barbie, and others. The types of ambiances in the online candy games to play for free are super various, from fairytales to haunted houses.