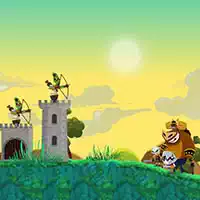 Castle online games mean several instances of games, where castles are present:
• protecting your castle (which can be actually not a castle but designed like something other; such games' genre is called Castle Defense)
• building it along with the expansion of your kingdom (development games presuppose collecting resources, constructing buildings, and improving your economic strength; occasionally, a player fights with various in-game enemies)
• improving the mastership of shooting and increasing your army
• knight-style of games, where castles are only a part of the ambiance of freely playable castle games
• overcome various monsters
• striving for the love of a beautiful princess who is waiting for her hero in a castle
• saving the hangmen from execution (in the style of Robin Hood)
• painting pictures of kingdoms and castles in colors.

The online castle games to play for free are made by various gaming companies and represent a totally different set of styles, genres, graphic designs, lengths, and ideas behind them. However, they are all playable for free and you can enjoy them on your screen from any place that has the Internet and using a large range of devices (tablets, phones, laptops, and tabletop personal computers).

To keep your interest in the collection of online castle games to play up to date, we periodically replenish their set, adding one game in a few days or more frequently. So as of the date of writing this review, there were around 80 of them while a year before that, there were a few dozen. So come back for more and already today enjoy some of your favorite protagonists, depicted in these games: princesses, dragons, Adam and Eve, Stickman, Super Mario, Baby Hazel, Among Us, sorcerers, monsters, skeletons, toys, and others.