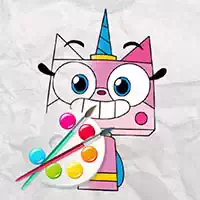 Online coloring games for free provide the ability to reveal your creativity. In these games, a player can select many options of coloring, such as:
• the tool to be used (the choice of tool is not available in some games, though): pen, pencil, marker pen, brush, paint sprayer, paint roller, sponge, etc.
• the picture to be colored (if a game provides that, surely): there is an abundant choice of various characters and heroes that come from all parts of pop culture, like films, cartoons, comic books, offline and online games, or books: Santa Claus, dinosaurs, monsters, princes and princesses (by Disney and other companies), Hello Kitty, Tom & Jerry, Among Us, Dora the Explorer, Minecraft, Spiderman, Ben 10, Ladybug, Super Mario, Talking Tom, Sonic, Monster High, Teen Titans, Blaze, Talking Angela, Squid Game, Batman, Peppa Pig, Pokemon, Lightning McQueen, or LOL dolls. There are also a lot of other characters in these coloring online games but they are not someone recognizable
• the number of colors to be put on a picture during the process. Although many such games strive for simplicity (and even over-simplicity), it is also true that some pieces do have very complex pictures to be painted, which can consist of a hundred colors, and which can take a user to work on one painting for an hour or longer. Unlike such complex online coloring games to play, those simple ones might take anywhere around one or a few minutes to complete the task of painting one picture
• freedom of painting — many games in this catalog do not prompt a user to use just specific colors, which makes it possible to paint grass in orange, skies in green, and water in purple. With such a degree of freedom, a process can be as thrilling and fun as it can possibly be.