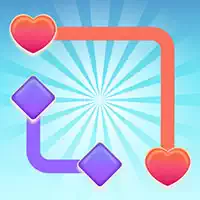 Connecting something to another something is always cool. That's mainly about making the pipes or lines connect. Not only does it allow passing the level but also the final picture looks smooth and esthetic. Let's look at the specific options of online connect games to play:
• connect animals to make something new of them ('Animals Connect')
• merge colors of the Play-Doh ('Crazy Clay') to see what is going to turn out
• link three or more similar objects to make them disappear or move, for score ('3 Link Kids', 'Forest Match', 'Christmas Connect Deluxe')
• connecting lines, pipes, and/or other elements in a holistic structure to perform a specific task of the level ('Connect Lines', 'Flow Free Online', or 'Filling Lines')
• composing the worlds out of letters (try the connect online game 'Wordscapes')
• solving the tiles, which could be something like mahjong or a mind game like 'Puzzle Ball'
• making the loving hearts connect to one another thanks to your assistance ('Love Balls Rescue')
• hitting the differently colored hexagons ('Hexa Time') or squares ('Patterns Link')
• drawing a picture by connecting the enumerated dots ('Point To Point Happy Animals'), and other games.

It's simply not that fun to list all these games — instead, start playing online connect games for free right now. Because that is the reason why we have made that wonderful ever-replenishing collection. We love when our visitors are happy. That's why we try to add one new game to the collection every 12 hours. And we also try to keep it diversified. For instance, we love the theme of Halloween and — click — here it is, added. Saint Valentine's? Here you go! So come on, go back here every other day to see what has been updated.