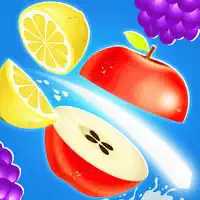 Fruits are yummy and are an important source of vitamins, fiber, microelements, macroelements, and other nutrients, which are needed by people, animals, and many other living creatures on our planet. There exist so many edible fruits but there are also ones that cannot be safely eaten by a person.

They come in a tremendous variety of forms, colors, nutrition values, sizes, weights, and other peculiarities. Some fruits can be eaten completely (or with small leftovers, like seeds) while others have a lot to peel off to make it possible to eat (at least, not harming digestion and teeth). Sometimes, fruits are mixed up by people with seeds, kernels, and vegetables by calling them 'fruits' altogether but that's wrong from a scientific point of view.

We love fruits because of their variety, taste, and great look. And no wonder that humankind has created thousands of recipes for cooking them (besides eating raw). Analogically, there must be no surprise that there are so many free fruits games to play online and offline that were developed for all sorts of platforms (mobile phones, tabletop computers, laptops, tablets, gaming consoles, and others). We have collected here many of them to represent to your attention such gaming abilities and mechanics:
• cutting and cooking fruits and various foods on their basis
• slicing them to make something out of them (reach a high score, make a cocktail, etc.)
• coloring up using given or random colors and coloring tools (marker pens, ordinary pens, pencils, brushes…)
• playing fruits online games with cards or dice, where a gamer has to compose their various combinations to complete the level
• hitting fruit-shaped balls to destroy them
• picking fruits in a garden in many farm-type games
• running and collecting fruit items.

Start playing these wonderful online free fruits games today to spend countless hours with fun and joy!