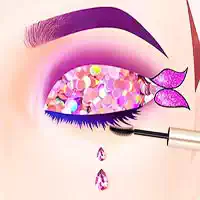 The description of features of Make Up online games
The selection of those games has one goal and the global purpose: to apply various types of makeup at the hero you love the most. It is often the case that in Make Up online games you will meet celebrities. What fun it is to work with their faces – those faces you know from TV shows, movies, music video clips and so on. Like, for instance, Ariana Grande.
In addition to celebs, you'll most often meet the heroes of cartoons and other types of animation: Elsa and Anna from Frozen occupy more than 50% of the available assortment (and this is the thing not only with our site – they are about 50% in each of the types of girls' games online, so you just have to get used to it). Then come just girls that look similar to them (although without naming games with their names, giving just some distracting calling to them like 'Flamenco Dance', 'Skater Girl', 'Fairy Spa Salon and Makeover', or 'Unforgettable Valentine Day').
The rest of the heroes of cartoon aside of 'Frozen' ones are:
- Cinderella
- Aurora
- Barbie
- Snow White
- Monster High (various characters)
- Rapunzel.
Specifically pay your attention at 'Snow White Modern Makeover' game, in which she is drawn by a very talented artist, who very changed her look (for better).
Also of interest would be 'My Modern Little Pony', where Pony is just a trademark (for the name), and the image of this animal is no longer animalistic – a Pony here is a girl (with the same rainbow-colored hair). Cute and stylish girl, we must say.

Make Up is good to have free fun playing online
You can explore the free online games, in which different heroes are connected. For instance, 'Aurora and Cinderella College Girls', 'Ice Princess VS Fire Princess', 'Disney Princesses Barbie Show', 'Cinderella and Snow White Matching Outfits'. That's not all fun we have – explore more and enjoy!