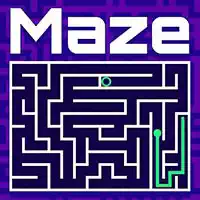 What can be told about Maze games?
The maze is another word to name a labyrinth. You have to escape it with your avatar. Or complete levels solving a puzzle, earning credits going through them. Some labyrinths may be scary, some don't.

Are there any featured characteristics of free online Maze games?
Labyrinths aligned in two dimensions, as a rule:
- vertically (and you have to use gravity to walk through) and
- horizontally (when you are looking from the top at your avatar in the game).
The goal is to run away (avoiding being hurt/killed) or to fulfill some tasks (as in the 'Snail Bob' and all its parts).

Maze games – view what we have
"Mr. Journey Fox" is about a cute foxy of unidentified age (but of identified male gender), which has a little bit semblance to Indiana Jones and represents a very easy maze to walk through (with lots of automatically given hints).
'Zombies Runaway' makes counteraction with zombies even more fun as now you don't practice to simply shoot them in batches as other online free games of this theme provide but to run away in the labyrinth trying to stay alive.
These two are only a few but we're sure we've planted the interest in your head and you will investigate more of them further.