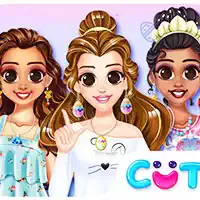 What fun can you explore playing online Princess games?
The prince and his princess (or just a princess herself) are the main heroes of this genre of online free games. Nothing but adorable princesses, who will show you how to make various emotions:
• love to her prince or the image of self she sees in a mirror
• love to her future or already born baby (the baby's age varies when is out of belly – from months to years)
• adoring of making magical tricks or arranging the table for the guests arriving at the tea party (as it is the case in 'Baby Barbie Tea Party')
• stunned by the huge tasty burger she's about to eat (play 'Sofia The First Cooking Hamburgers' for that)
• extreme sadness (that he is leaving – try to play 'Ken Leaving Barbie' to experience all facets of a letdown)
• fun about drastically new style (as in 'Princess Punk Street Style Contest' or 'Ice Queen Time Travel Japan')
• excitation about the new image ('Disney Princess Inspired Fashion')
• thrilled about having the nice family (all online free games with Anna and Elsa).

The inherent features of Princess online games
All imaginable princesses that you know are likely to be met by you in those games. Dressing up, seeing a doctor, hanging out with boys, even compiling BFF weddings, and feeling complete and hilarious insanity with 'Minions Frozen Design' – so much choice that it's easy to lose your head trying to embrace them all.