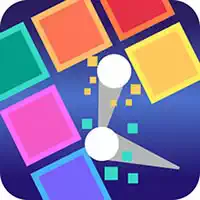 Although satisfaction is typically given by all satisfying online games (that's their primary goal, you know), the 'Satisfying' type of games were tagged so because they differ somehow from the rest. These differences can be manifested in such criteria of getting satisfaction by:
• looking at something is destroyed ('Bomb It 3'), completed ('Domino Frenzy'), or collected ('Hoop Stack')
• feeling the emotions of kissing and having relations ('Winter Kissing Couples Game' or 'Pool Kisses: Summer Love')
• connecting the lines to fill up the area of the gaming field ('Connect Glow Game Puzzle') or slicing anything into small enough pieces so they fall down ('Good Slice' or 'Perfect Slices' satisfying games to play)
• sorting (try the games named the 'Water Flow', 'Sort Hoop', or 'Dig Balls')
• escaping or progressing the levels in a similar way (this is implemented in the satisfying games called 'Escape Out Masters', 'Tap Touch Dash', or 'Music Rush').

If you have a lot of fun painting something in colors, then you shall definitely love the game called 'Doll House Coloring Book'. If you're more interested in monsters (cute and not so cute), then meet the notorious monster 'Huggy Wuggy'. To feel the perfection of arranging your clothes, you shall definitely try playing the free online satisfying game called 'Perfect Ironing Dress Up & Style Game'.

There are a lot of other fancy games in this section of our website, where it is possible to watch the physics of things, like people who dive into the water or pop the rubber pops purely for having peace of mind. If you like eating or making food, then try games in this direction, for instance, the 'Ice Cream Maker' or 'Popcorn Box'.