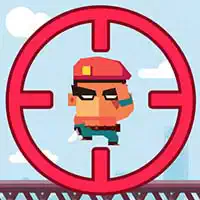 Shooters is a very popular category of games. Online shooters for free make it possible to play for many goals of shooting, such as:
• points, coins, or other in-game currency
• time
• promptness
• effectiveness (certain result)
• killing enemies
• staying alive
• doing tricks
• destroying something
• winning a war or battle
• seeing how cool the bullet flies in the trajectory
• rescuing someone (like a hostage)
• preventing your enemies to win
• other purposes.

The biggest part of shooting online games includes actions, runners, and arcades. But there are also other genres, including bubble shooters, tower defense, puzzles and riddles (including Squid Game type), and even intellectual challenges. Certainly, there is a wide variety of designs, gaming processes, complexities, ambiances, sounds, and numbers of levels (some freely playable shooter games are finite, others are infinite).

Let's consider a few examples of those games by type:
• a great bubble shooter is 'Bubble Pop'
• tower defense is implemented in 'Swampy Assault' or 'Towerland'
• rescuing a hostage is possible in 'Hostage Rescue'
• shooting for the sake of destruction and beholding the explosion of objects is doable in 'Shoot the Watermelon'
• killing naughty viruses is excellently implemented in 'Corona Vaccine'
• hunting for a ghoul creature to kill it and free the world from its filth is done in 'Slenderman Must Die: Dead Space'
• overcoming the obstacles and eliminating enemies on your way during the hell of a ride is doable in the game 'Road Fury'
• shooting zombies in a very scary ambiance is possible in 'Undead Corps — CH3: The Ruins'
• finally, to feel like you're back in the 2000s, play the game that is strikingly similar to Counter-Strike, called here as 'Counter Craft Lego Clash'.

Explore other games, too, and return to us more often because new releases are constantly published.