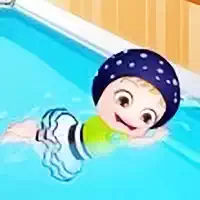 What are Swimming games?
Swimming is only sometimes about the fastness and your speed. In some sense, swimming fast resembles car games or any other types of racing games. As it is the genre of online free games, your flowing speed will depend on how fast and how wise you will make your clicks.
Aside of the speed-demonstrating swimming games, there are many that simply connected to water and any its manifestation: sea, pool, river, or any other water object.
I. For instance, this can be diving for treasures. In this case, the fun of the game is created by such factors as limited time or depth that can be reached at the current level of the development of your character.
II. In kissing games, the pool/river/sea is just an ambiance – your avatars will need to kiss taking into account some restrictive or distracting factors. Not paying attention to them means losing a game.
III. Collecting objects. You can be a fish that flows in the water collecting coins. Or you can be a huge crocodile hunting for people in a boat.
IV. Diving or going as much as powers will endure.
V. Building your water object: a water park, a pool, an underwater city…

Features of free online Swimming games
The water is one of the major substances that form the basis of life itself. No wonder that there are so many online free games connected with water and water object. Centered over it, the subgenre can widely vary: from swimming fast, building and kissing to hunting, destroying, drifting, and flowing.