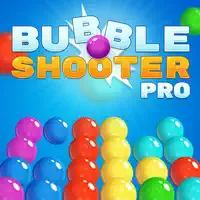 Featuring Bubble shooter games
If you have a smartphone and live in the 21st century, you've probably played those at least once in a lifetime. So simple but so attractive thanks to juicy-colored bubbles, various special effects when you hit a bunch of them, and fun music – that what makes them so alluring.
They all have similar simple mechanics – you have limited/limitless number of bubbles to shoot the same items to match colors. Once you do, the matched colors will blow up, releasing space. This space will not be for eternity, however, – as the general mass gradually moves (as a rule, from the top to bottom threatening to press you with self) and so you have to continue shooting them to succeed.
In order to pass the level, a player either has to shoot some amount of ones to score or 'kill' a certain number to reach the total given score within given time (or timeless).

Free online Bubble shooter games are fun to play – if to know this
a) Depending on a game, you will encounter various special effects that 'killed' bubbles reveal
b) The mass can be moving or immobilized
c) The background matters – and sometimes prevents to play if you will distract your attention
d) Most of them are played within several minutes for 1 round.

We offer bubble shooters for ya'll
'Bubble Shooter' and 'Bubble Fever' will not surprise you with originality, giving totally known interface and gaming mechanics. Whilst 'Orange Ranch' has different look on how such games have to be played. Try others too – and form your opinion. Have fun!