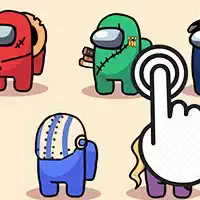 You know, most games are about tapping the screen — at least, those, which are designed for mobile phones and tablets with touchscreens. Other games are played and controlled with a mouse and keyboard. Tapping the screen is how all interaction in online tap games for free goes.

Because tapping as a gaming interaction is so widespread today, pretty much all games can be tagged as 'tap' or 'tapping'. Some games are more about tapping than others, though, because they require you to tap to make any progress. Without tapping, most free tap games will simply stop functioning and will deliver no progress at all. Sometimes, though, there are exceptions if a game is implemented with some offline and/or background progress. In that case, it might look as such:
1) Through tapping, a player makes some dynamic activity in the game, reaching the in-level progress
2) Through offline earnings, a player gains more in-game coins or other units of value, which he or she then uses to buy some in-game achievement, progress, item, or advancement or to reach a big goal faster.

A player of tap online games is usually allowed to spend the earned in-game money to buy the offline/passive earnings because, without them, most games become too dull and slow to keep up the fun. That's why tap games increasingly become dual: with active tapping and with passive income. But not all of them are such, certainly — those online tap games to play, which do not have a notion of in-game passive progress, do not provide it. Vivid examples of these are color-up games, rescuers, sports games, or games where a gamer has to show their skills to pass the level (like avoiding a ball to fall from the cliff of a tangled level). So, basically, you can achieve something only when you tap in this case. If you're interested in that — welcome and become our new gamer!