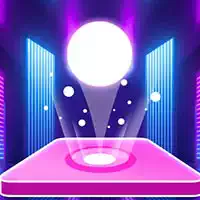 We haven't met a person, who wouldn't love music. At least, some genres should be to their liking for sure. And there are a lot of genres out there, from classic to metal, from rock to ambiance, from pop to indie… In our catalog of music free online games, you will be doing various tasks, this way or another connected to music:
• If you love listening to music, know a lot of it, and can say, what is the name of the song or who is a performer, then go for the 'Guess The Song' game
• If you love passing the levels, being driven by the adrenaline, and hearing nice accompanying music, then you're welcome to play the music games called 'Two Tunnel 3D' and 'Impossible Box Challenge'
• Explore a lot of fun of funk music in the somewhat hooligan game 'Friday Night Funkin Music' (as well as all its continuations, which must include in their names the Friday Night Funkin words)
• For various runners and level progressing online music games to play for free, where music accompanies you, try to play 'Music Line 3', 'Twerk Race 3D', or 'Music Rush'.

In these games, you're able to meet some of the already known characters, like the ones from the Squid Game. Or the names of the games popular in this field, like the 'Neon Guitar' (which is a derivative of the name 'Guitar Hero'). But the peculiarity of this genre of games is that there are not so many well-known characters — it is more about the ambiance of those pieces of entertainment.

It is very frequent to meet such games as the ones, where you have to correctly press the keys of your keyboard or tap the screen on your touchscreen device so as to follow the notes appearing on the screen ('Bolly Beat' or 'Xmas Magic Tiles') or avoid pitfalls and spikes ('Color Stairs').

For a smoother type of relaxation, you could listen to how different music instruments sound, as is the case in the free games 'Music Tools' or 'Instruments Kids'.