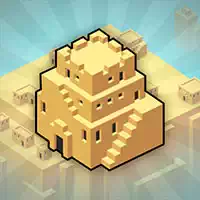 What are Upgrade games?
The upgrade is an inherent part of absolutely any game. It is hard to imagine some online free game in which you wouldn't have to make upgrades as it is nearly impossible. Whatever it is: racing, clicker, miner, shooter, jumper, zombie killer, a nuclear bomb launcher, dinosaur hunting, defense making, flying and so on… – they all need upgrades.
Of course, if a game is completely simple – just to kill several minutes of your time (no more) – than it is a high chance it won't have the in-built necessity to make upgrades. For instance, it may be a runner on horses – you just make it through levels until you lose. And this will always happen – believe us – because such simple games only programmed to make you lose at some point in time no matter what actions and how well would you do.
But this may not happen with a player if a game will give him or her a chance to evolve – thus, make upgrades.
The object of upgrade can be anything: your car, your hero, your house, your zombie-bazooka… There is a game named 'Poop Clicker' – and you don't have to develop anything, you just click to see the poop smiles in different ways and gives you various gross sounds. But this is one of those that only will take a couple minutes of your life. In those that are for bigger, you will definitely have to evolve. Some of these online free games are deliberately endless – and they even have its feature written in their name, like 'Endless Truck'.

Features of free online Upgrade games
- upgrade is used to move through levels smoother and faster
- points to make upgrades are earned moving through levels – and they can be main or additional. Some of them are also purchased for the real money – but this is not applied to free online games, only for ones that are installed on your PC or a phone
- the object of the upgrade is anything, depending on the specific game but as a rule, they are generalized into several main categories: hero, its weapon/car or its ambiance.

Fun with online free Upgrade games
There are various games of this genre, embracing every possible one. For lovers of clickers without significant development, 'Poop Clicker' and alike will do – they allow to kill some minutes of life without long-going consequences. Players of strategies that require hours and days of life will love such online free games as 'Battles of Sorogh', 'Gold Miner', and 'Epic War 4: Alliance of Heroes' amongst the others. Food admirers will try their appetite in 'Papas Sushiria' and 'Papa Louie 2'. Racers shall put their eye on 'Supercar Road Trip 2', 'Freegear Z', and 'Heat Rush USA'.