Meow! Are you ready to put your feline knowledge to the test? Introducing Kitty Quiz, the ultimate mobile game for cat lovers and trivia enthusiasts! Dive into a world of whiskers, purrs, and adorable kittens as you embark on a delightful journey through the feline kingdom.

Kitty Quiz is a fun and addictive trivia game that challenges you to uncover the secrets of our furry friends. Test your knowledge about cat breeds, behaviors, famous cats, and more. With hundreds of questions ranging from easy to challenging, you'll become a cat expert in no time!

Immerse yourself in the charming visuals and captivating artwork that celebrates the beauty and diversity of cats. From fluffy Persians to sleek Siamese and everything in between, every image is a purr-fect representation of these magnificent creatures. Admire their adorable faces, striking colors, and enchanting eyes as you progress through the game.

Explore a variety of game modes to suit your playstyle. Challenge yourself in the Classic mode, race against the clock in Time Attack, or challenge your friends in thrilling multiplayer battles. With each correct answer, earn rewards, unlock achievements, and climb the global leaderboard to prove you're the ultimate cat aficionado.

Expand your knowledge of cats as you progress through the game. Learn fascinating facts, discover unique traits, and uncover interesting trivia about our beloved feline companions. Share your newfound knowledge with fellow cat lovers and engage in lively discussions about these enchanting creatures.

Kitty Quiz offers a user-friendly interface and intuitive controls, making it accessible to players of all ages. Whether you're a seasoned trivia player or a casual gamer, Kitty Quiz provides a delightful and engaging experience that will keep you entertained for hours.

Immerse yourself in the game's delightful sound effects and charming music that create a cozy and relaxing atmosphere. Each correct answer brings a sense of accomplishment, and each meow and purr add to the delightful ambiance of the game.

Compete with friends and players worldwide in exciting multiplayer challenges. Test your feline knowledge against other cat enthusiasts, share your favorite cat photos, and engage in friendly competitions to prove you're the top cat expert.

Stay engaged with regular updates, new questions, and exciting events that keep the game fresh and entertaining. Discover special themed quizzes, seasonal events, and limited-time promotions that add an extra layer of excitement to your Kitty Quiz experience.

Are you ready to test your cat knowledge and become the ultimate cat connoisseur? Download Kitty Quiz now and let the feline fun begin! Meow!
To controll Kitty Quiz game, use your keyboard and mouse if you play it on your Desktop. Or simply use your finger if you use your mobile phone or tablet.

Kitty Quiz is an online game, you need to be connected to the Internet in order to play it. Kitty Quiz is an HTML5 game, which means that all you need is a browser of any of your devices. 100% supported devices.
Game's category: Cat Games
Times Played: 1 464
Votes: 17
Game Rating: 65%
Age restriction: For All Ages
Game Tags:
Screenshot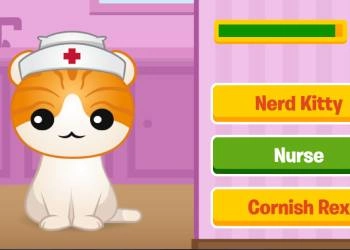 Play
Similar games: