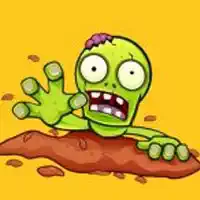 Undead is a name used to describe everything that died once but then resurrected from the dead without a soul (or with a soul altered to worst during the period of being dead) in a physical body or in a spiritual form as a ghost. If the deceased and then returned was a human being, after the returning, he or she cannot be considered a normal human anymore because their bodies start to decay unstoppably or could start decaying if they don't drink people's blood or eat their flesh. Also, it is because they no longer have a soul or their soul is irreversibly changed by the dark side of nature and so they more support now the concept of death, not life. Thus, these ex-people stop being called 'humans' and usually start being called 'creatures'. They are the children of the night now. And we have those creatures in plethora in our catalog of undead online games.

The list of undead creatures is vast. It includes zombies, upirs, vampires, ghosts, ghouls, leeches, harpies, vultures, bogeymen, gorgons, specters, graveyard dwellers, phantoms, phantasms, banshees, wraiths, hellish hounds (Cerberus is one of them), and eidolons. Sometimes, individual scary living creatures could be included in the list — bats, rats, or snakes (because people are afraid of them). Basically, all the otherworldly creatures are divided by researchers and by our undead online games into two categories: physical creatures and incorporeal instances. And people find both highly scary and repulsive. That's natural because a lot of people are afraid of death and the decay of flesh that it brings.

Sometimes, the freely playable undead games, just like some real beliefs of people, make the undead creatures attractive. The most known example of that is vampires. They are depicted as very beguiling creatures in the 'Interview With The Vampire' film, where every single vampire is super likable, courteous, and rich to some extent. No wonder, millions of people do fall in love with vampiric themes and movies: we all strive for immortality and handsomeness.