What is Dunk Shot 2 and the features of this free online game ? Basketball lovers: behold a new free game called Dunk Shot 2 . Here, a player has to move the ball between two baskets, which are located one above the other. To progress, it is necessary to give the ball the angle of the shot and the acceleration. To do this, it is possible to use a computer mouse and rotate the basket in the necessary direction, giving it an inclination. Then, by dragging and releasing the mouse, the necessary acceleration is granted. The mouse is easily replaced with one finger on mobile devices. Therefore, progress can be endless if you know the physics of the online game : • the ball has endless inertia • it also hits walls and baskets with energy that doesn't fade • weighs more than the normal basketball as it is too heavy and falls too soon to be the real world object. After you get used to the above mentioned, the game can bring fun. A player only has one life and the game has zero tolerance for mistakes. Thus, missing the goal once and falling, the game ends with the need to start over from the beginning. However, there is one thing that helps to survive - a ball that falls into the previous basket, from where it flew to a new one gives another try. Also, collecting stars, you can spend them on buying new balls - they differ only in appearance, and each of them costs 100 coins. However, before making a purchase, it is impossible to see which ball will be delivered to you, since they are covered by the same concealment.
To controll Dunk Shot 2 game, use your keyboard and mouse if you play it on your Desktop. Or simply use your finger if you use your mobile phone or tablet.

Dunk Shot 2 is an online game, you need to be connected to the Internet in order to play it. Dunk Shot 2 is an HTML5 game, which means that all you need is a browser of any of your devices. 100% supported devices.
Game's category: Arcade Games
Times Played: 5 671
Votes: 58
Game Rating: 71%
Age restriction: For All Ages
Game Tags:
Screenshot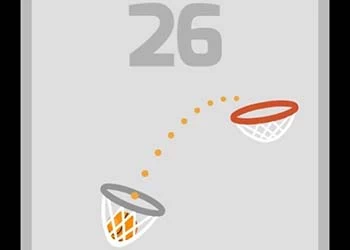 Play
Similar games: