Do you want to be advanced in archery? Try to play Halloween Archer Do not think that if you passed level one from the first try, you will easily pass through other levels of this free online game . Most likely you won't. Not because we don't want you to, not at all. But it will be difficult just because of these game conditions: • Fast falling objects: After thrown objects reach their highest point, where they hang for a second or two, they fall back so fast that you won't have a second . good opportunity to aim and shoot • this game has a rather unusual system for aiming at the target: it's not like you are showing with a mouse where you would like your arrow to shoot. No, you're clicking the mouse, then dragging it to the left to pinpoint the trajectory, moving it up and down, moving the bow in the hands of a shooter. Only then, release the arrow and see where it goes (praying for the success of this effort) • It takes time to get used to the system described and slows down the shot. It makes it closer to real-life conditions speed-wise, but it also slows down the speed of making shots, which lowers your chances of successfully finishing the level. So that a player does not focus so much on a shooter and a bow, they are represented as a stickman and a schematic bow. What really matters is the marked trajectory and the funny objects in the air. Remember that of all the elements that are thrown at you, you only have 3 possible to fail if you want to pass the level.
To controll Halloween Archer game, use your keyboard and mouse if you play it on your Desktop. Or simply use your finger if you use your mobile phone or tablet.

Halloween Archer is an online game, you need to be connected to the Internet in order to play it. Halloween Archer is an HTML5 game, which means that all you need is a browser of any of your devices. 100% supported devices.
Game's category: Arcade Games
Times Played: 10 381
Votes: 129
Game Rating: 74%
Age restriction: For All Ages
Game Tags:
Screenshot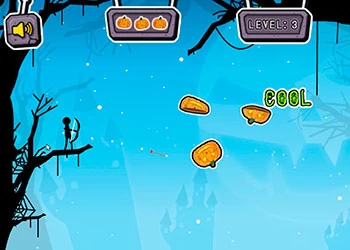 Play
Similar games:
Game Comments:
Who is better?
ben_10
teen_titans_go