What are Minecaves 2 and what is the fun of playing Minecraft for free is the basis of this free game played online . It has 25 levels (24 ordinary and one considered secret, however, why is it secret if it is presented on the home page?). The main hero looks exactly like the guy from the Minecraft universe - the same square. His world is called Minecaves because it is trapped in caves with elaborate Minecraft-style maze elements. It can only move the full length of the straight line. It means you can't stop in the middle unless you bump into some obstacle. This circumstance somewhat limits his ability to move and makes its own correctives to the game process. To play , you have to collect various collectible items: • diamonds of various colors (they also unlock other levels on the level grid, with the appropriate color) • stars to indicate excellence in level completion • tools that have come here since Minecraft world: For example, a pickaxe, which is used to break boxes of the same color as the pickaxe. • other valuables, which may be needed to pass the level or to use in future levels. In addition, there can be places that are difficult to pass: high water level (which, however, is controllable), walls that become traps once you enter (with no possibility of getting out). This free online game will definitely be liked by players of the Minecraft universe.
To controll Minecaves 2 game, use your keyboard and mouse if you play it on your Desktop. Or simply use your finger if you use your mobile phone or tablet.

Minecaves 2 is an online game, you need to be connected to the Internet in order to play it. Minecaves 2 is an HTML5 game, which means that all you need is a browser of any of your devices. 100% supported devices.
Game's category: Minecraft Games
Times Played: 2 464 686
Votes: 5890
Game Rating: 80%
Age restriction: For All Ages
Game Tags:
Screenshot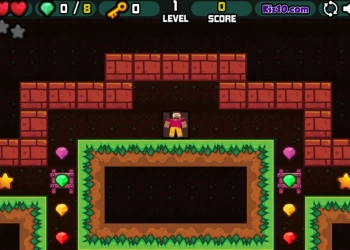 Play
Similar games:
Game Comments:
Who is better?
teen_titans_go
paw_patrol