How to play Rider-2 and what are its features There is only one control: hold down the mouse to make a bike move. When you release it, it slows down. Also, when you press too long, it starts spinning by jumping in the air and it's almost impossible to make it land on two wheels in the position it should. Since he just touches the track not with his wheels but with anything else, he immediately crashes and the level ends. It is very difficult to control the bike from landing on the wheels, since there are no controls other than the mouse. Also, it is not a save point or a checkpoint. So this free online game is more about thinking and planning a lot, not about enjoying the speed, the game process and the roar of the wind in your ears. The visual part is very nice: the bike and the track have a bright neon style. Those people who saw a 'Tron' movie would say that this game incorporates some elements of it into a visual glow, although it's not quite as dark as the neon that the movie is. Another bike that you can buy with your in-game money (green collectibles) will not differ in ride quality from the initial one. It will tend to fall just the same, tip over and spin in the air, and do all the same. It will just look different. The second bike is definitely like the one in the movie Tron.
To controll Rider 2 game, use your keyboard and mouse if you play it on your Desktop. Or simply use your finger if you use your mobile phone or tablet.

Rider 2 is an online game, you need to be connected to the Internet in order to play it. Rider 2 is an HTML5 game, which means that all you need is a browser of any of your devices. 100% supported devices.
Game's category: Racing Games
Times Played: 5 881
Votes: 102
Game Rating: 93%
Age restriction: For All Ages
Game Tags:
Screenshot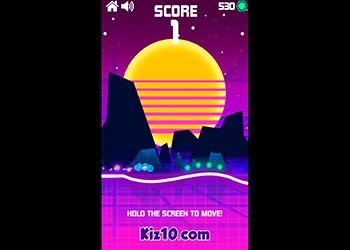 Play
Similar games: