How to play Flying Turtle? The walkthrough of the Flying Turtle online game is quite easy: what you have to do is keep an eye out for the collectible items that are hanging in the air waiting to be picked up by a flying turtle. There are such things in this game: - background: non-interactive and includes clouds, flying balloons, birds and helicopters - the turtle: a funny green creature with a hat on his head; the hat is equipped with a propeller, which creates the upward power needed to make the game happen; it spins on its own and seems to require no fuel to run - leaves in the bubbles - collectibles, which award points - time boosters - special items placed along with leaves in the bubbles, which grant +4 seconds of flight time for the Tortuga. The goal is not only to collect leaves in bubbles, but also to collect boosters every time, as your time in the air is running out fast and you need to replenish it. Also, this is a free online game for a score: the bigger you are, the cooler you are. There is no round that lasts more than 1 minute; with a high degree of probability, your time will run out before this threshold.
To controll Flying Turtle game, use your keyboard and mouse if you play it on your Desktop. Or simply use your finger if you use your mobile phone or tablet.

Flying Turtle is an online game, you need to be connected to the Internet in order to play it. Flying Turtle is an HTML5 game, which means that all you need is a browser of any of your devices. 100% supported devices.
Game's category: Running Games
Times Played: 18 749
Votes: 55
Game Rating: 76%
Age restriction: For All Ages
Game Tags:
Screenshot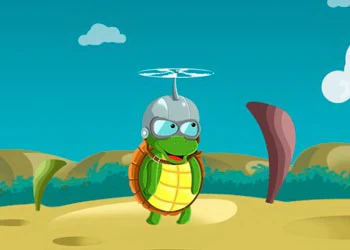 Play
Similar games: