Pen Run 2: how to play and what are its features It is quite an interesting implementation to spend minutes and hours playing. Imagine yourself in the world of stationery. A relatively empty space is dedicated to all kinds of items: • pens • gouache • paints • scraps of paper • clips • staples • hole punches • cups • markers • buckets • pencil sharpeners • notebooks • pencils and others. There are no people around. No other living being. You can literally smell the smell of fresh new stationery. You are a bookmark with transparent walls. You can see the paint level through them. The player's goals are: 1. Don't let the paint level run out completely. 2. Avoid hitting all objects except the paint refills (they are red plastic cans with black lids) and the track side limiters. 3. Try to make at least one star (and a maximum of three) by painting the predefined track as a dotted line (but even if you don't make any stars, you will be able to pass levels). 4. Cross the finish line by touching it with the soft tip of a pen (the level will be considered failed even if you cross the finish line with the body of a pen but not with its soft tip for painting). The track is not straight, so you are provided with a control to pass - a mouse. Its slight movements to the right and left are enough to move a pen smoothly. If you want sharper moves in this free online game , move it with a higher tilt to the side. Remember to avoid hitting objects!
To controll Pen Run 2 game, use your keyboard and mouse if you play it on your Desktop. Or simply use your finger if you use your mobile phone or tablet.

Pen Run 2 is an online game, you need to be connected to the Internet in order to play it. Pen Run 2 is an HTML5 game, which means that all you need is a browser of any of your devices. 100% supported devices.
Game's category: 3d Games
Times Played: 12 577
Votes: 164
Game Rating: 81%
Age restriction: For All Ages
Game Tags:
Screenshot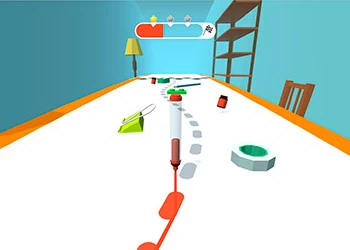 Play
Similar games:
Game Comments:
Who is better?
plants_vs_zombies
barbie